No Heat? Call for Furnace and Boiler Repair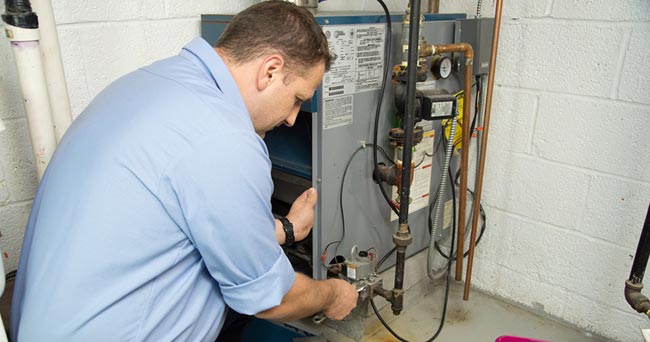 Evening and Weekend Emergency Furnace Repair Service Throughout Rhode Island
Whether it's that first really cold night, when you've got family staying for the holidays or just when you thought you'd made it through the winter – it never fails but that the furnace will break down at the most inconvenient time.
If you've got no heat …
If the furnace is cycling on and off too quickly …
If some rooms are without heat and others are too hot …
If the boiler is making unusual noises …
If your last fuel bill was unusually high …
Call the furnacerepair experts at RI Heating Contractors of Rhode Island : .We'll get someone out to fix it.
We're the Steam Wizards
If your steam boiler was recently installed and it's not working as well or better than your old boiler, let us take a look at it. Something may not be right. It's not unusual to find that an installer failed to follow the manufacturer's instructions. We'll find and fix the issue. Plus our service is 100% satisfaction guaranteed for steam boiler repairs and installations.
We'll give you an estimate on the cost to get your steam boiler up and running right. Just give us a call: .
Need a New Furnace?
If your old furnace can't be repaired, RI Heating Contractors has you covered. Visit our showroomto see a wide range of new high-efficiency furnaces and boilers that fit your needs and your price range. RI Heating Contractors also has financing options available, including 0% interest energy loans for the installation of new high-efficiency furnaces and boilers.
Yearly maintenance can help avoid nasty surprises in the fall. We offer a service agreement that entitles you to a heating and cooling systems inspection and tune-up to ensure your system is operating in top shape.
Contact Us
Business Info
RI Heating Contractors
1 Starline Way
Cranston
,
RI
02921
Phone:
401-283-1671
| | |
| --- | --- |
| Rhode Island contractor's license | #32384 |
| Master Plumber License | RIMP #1763 |
| Rhode Island Master Pipe Fitter license | RIMPF #50 |