No Hot Water? Call RI Heating Contractors of Rhode Island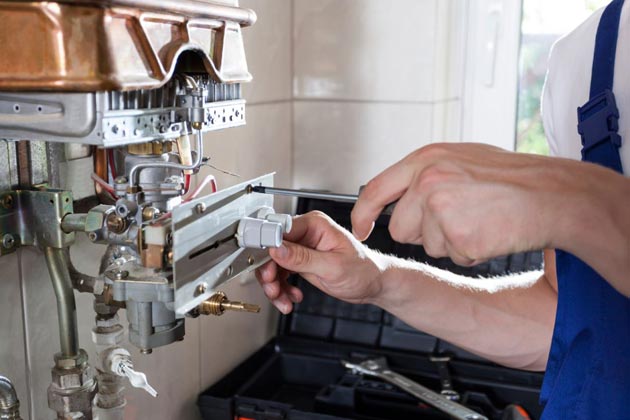 Evening and Weekend Emergency Water Heater Repair in Rhode Island
Are you having a problem with your hot water heater? There are a number of possible signs that your hot water heater is having problems or on its last legs.
Are you hearing strange noises coming from the hot water tank, like a popping or a roiling sound? That could mean sediment and mineral deposits have built up inside the tank. Mineral buildup can keep the water from heating properly.
Do you see water on the floor near the water heater? That could be something as simple as condensation or more serious, like a loose valve or leaky pipe, excessive pressure, overheating, an obstructed vent, a cracked tank or even a defective heating element.
Is the water cool or lukewarm? The water heater could have a faulty gas pilot, a loose gas thermocouple or a faulty gas pilot control valve. There could be a problem with the gas control, or the dip tube may have broken in the tank.
Is the water rust-colored ? Do you smell a rotten egg smell ? The tank may be corroded or the anode rod may be failing.
No one likes a cold shower – or a big plumbing repair bill. Call RI Heating Contractors of Rhode Island: 401-283-1671. We'll give you a free quote over the phone and we'll get someone out to fix your water heater.
Need a New Water Heater?
If your old water heater can't be repaired, RI Heating Contractors has you covered. Visit our showroom to see a wide range of new high-efficiency water heaters and tankless water heaters.You may qualify for a 0% interest energy loans for the installation of high efficiency heating products.
If you're ready to buy a new, energy-efficient water heater, let the plumbing experts at RI Heating Contractors help you find the right heater for your needs. We also repair water heaters. Call 401-283-1671 to schedule an appointment.